New exhibit of thematic maps
John Delaney, a curator of the Historic Maps Collection at Princeton University Library, has created an excellent online exhibit of thematic maps (it may take a minute to load). In it he traces the origins of the technique of mapping information . He helpfully characterizes traditional topographical maps as "dressing" space, whereas thematic maps are more about interpreting space. The site is a must for any student of the topic, and will surprise you with the vast and far reaching examples across history.
For instance, Delaney cites this 1609 image as one of the earliest thematic maps. The cross, crescent, and arrow/spear are used to designate Christian, Muslim, and idolatrous civilizations. See the bottom of this post for a closer look.
One of the earliest of these in the United States was by William Woodbridge in the 1820s, and covered in chapter three of Mapping the Nation. Woodbridge designed the map to teach children geography by categorizing the different states of civilization. Here is the key to his map.
Delaney's exhibit has a particularly excellent section on the use of maps and graphs in nineteenth-century medicine, but also hydrography, geology, moral statistics, and several other categories. He also includes discussion of landmark thematic atlases, focusing on Petermann, Berghaus, Johnston, and Walker. The site is easy to navigate, with plenty of detail to illuminate the maps themselves and their individual contributions. It reflects significant time, research, and thought — an impressive achievement indeed.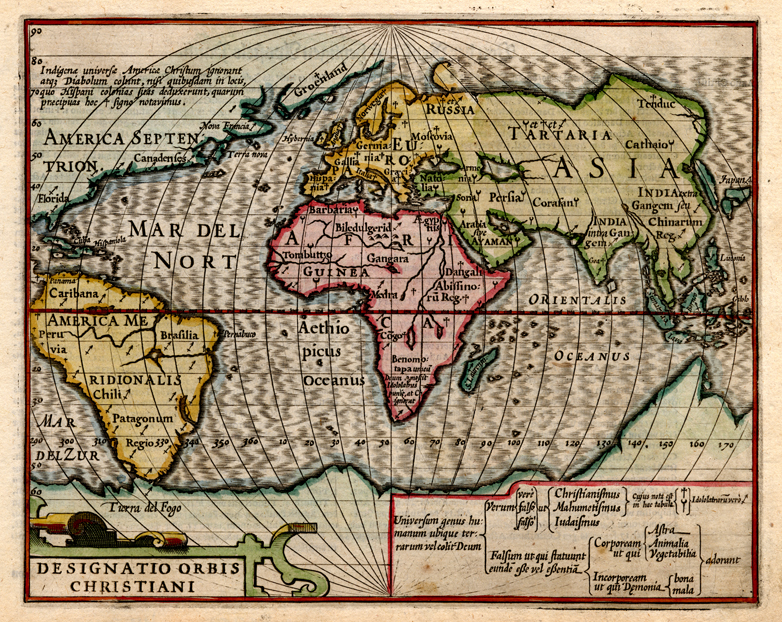 Use controls to zoom and pan.