A schoolgirl maps her nation in 1828
Next week I am speaking at Middlebury College, which reminded me of a charming document I came across a few years ago: the 1828 penmanship journal of Frances Henshaw, located in the David Rumsey Map Collection.
Henshaw was a student at the Middlebury Female Academy in Vermont. She used the journal to practice not just penmanship but history, geography, and drawing. The journal discusses the principles of astronomy and geography, and then traces the history and geography of America through descriptions and hand-drawn maps. Here is her map of Connecticut, copied from Carey's Pocket Atlas.
But most intriguing are Henshaw's word-maps, used to cultivate her skills of geography by "drawing" out the relative location of each state. Here is her description of Connecticut.
Notice that she bounds the state geographically. I suspect that she was taught to do this in order to cultivate her memory as well as her geographical knowledge.  Such techniques of creatively arranging information so as to advance memorization were very popular in the antebellum era. Her images have almost a quilt-like quality, both whimsical but carefully composed.
In chapter one of Mapping the Nation I discuss Henshaw's work in greater length. Here I just want to draw attention to the purely visual dimension of her journal. Such drawings required great attention to detail, such as the angel's head atop her description of Virginia, taken from a contemporary penmanship textbook.
Thanks to Henshaw's great grandson, Truman Young, we know that she would have been about 20 at the time the journal was drawn. David Rumsey has carefully assembled a site devoted to historic maps drawn by children in the nineteenth century. Enjoy!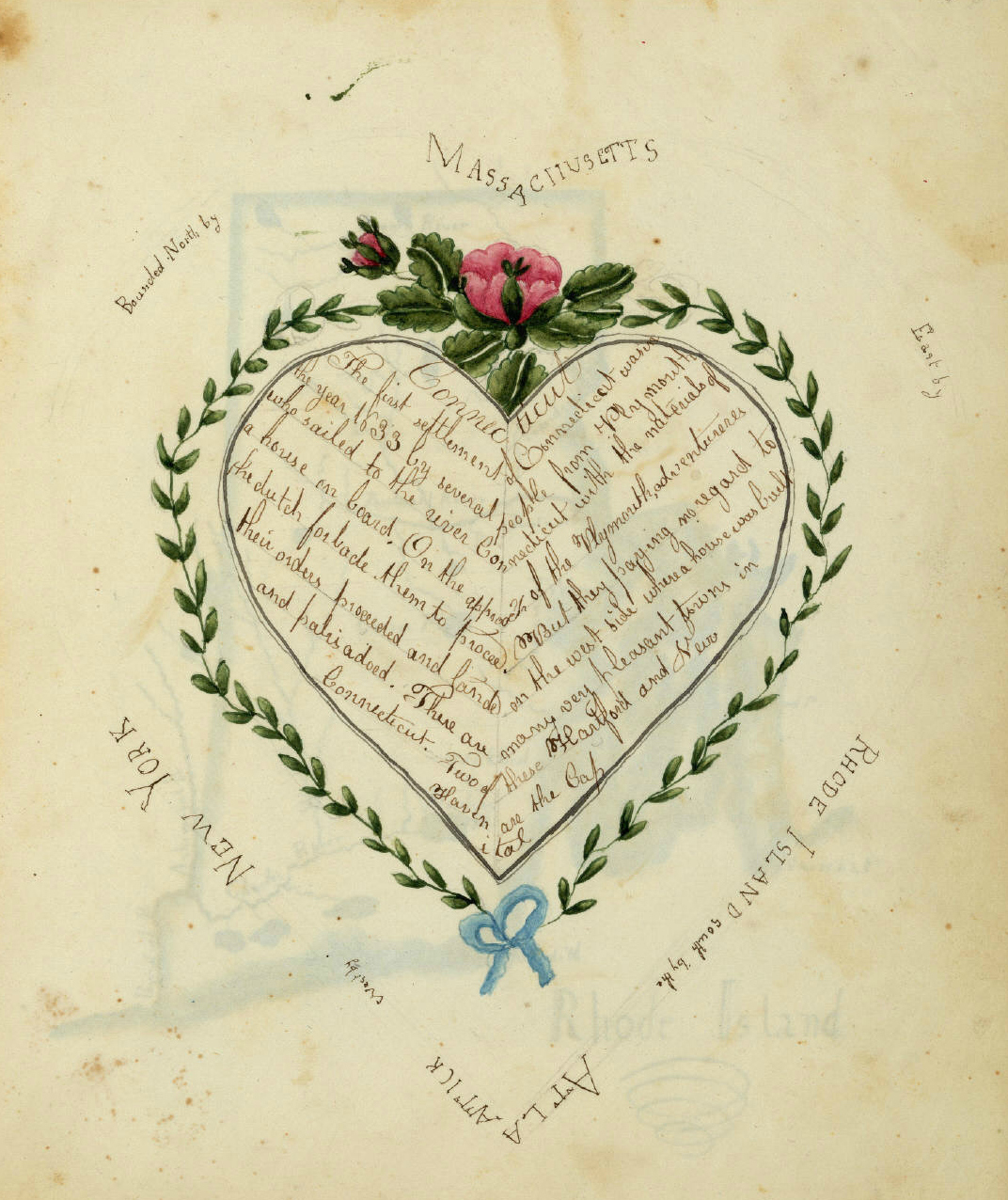 Use controls to zoom and pan.