Civil War maps at the Library of Congress
On November 12th I was lucky enough to catch the opening of the new Civil War exhibit at the Library of Congress. Thanks to the curatorial work of Ed Redmond (of the Geography and Map Division at LoC), the exhibit includes several contemporary maps, many of which were entirely new to me.
Among these was a map made of Fairfax County in northern Virginia by F.F. Mead in August 1861. This area–just southwest of Alexandria–was the site of ongoing skirmishes from the summer of 1861 into early 1862. The vulnerability of the capital was exacerbated by the absence of detailed maps. Mead, a member of the 16th New York Volunteers, relied extensively on local intelligence to remedy this deficiency.  The map below is a crop of his full map, available at the Library of Congress. Notice the notations on the map of individual homes and farms. Several of these are accompanied by the letter C, S, or U, probably indicating the landowners' Confederate or Union sympathies.
The lack of reliable maps of northern Virginia prompted Gen. Winfield Scott to initiate an ambitious mapping effort in the summer of 1861. The Union defeat at Bull Run delayed the effort for a bit, but by the end of 1861 the Coast Survey and the Office of Topographical Engineers had completed their "Map of north eastern Virginia." Issued on New Year's Day 1862, it was the first large and detailed map of the area, drawn from existing sources as well as new surveys. [I have told this story in a bit more detail here.]
Portions of this large map were used by members of Samuel Heintzelman's corps to control the attacks in Fairfax County. In early 1862, Pohick Creek was the forward line of the Union Army, about 10 miles southwest of Alexandria. Here is a fragment of that map, annotated by Private Robert Knox Sneden, whom Heintzelman had just hired to make maps of the area known as Mason Neck, full of secessionist sympathy.
Sneden's map marks Union and rebel forces as of January 1862 (just after a confused but successful Union raid across the Occoquan River). Later, Sneden made his own map of the region, and drew upon his experience and local knowledge (including the help of an escaped slave) to identify the homes of rebel sympathizers. Though his map is oriented differently from Mead's, the men identify some of the same secessionist landowners. Perhaps Sneden even drew on Mead's map to make his own, though the scales are different. Take a look and try to match — happy hunting! And let me know what you find.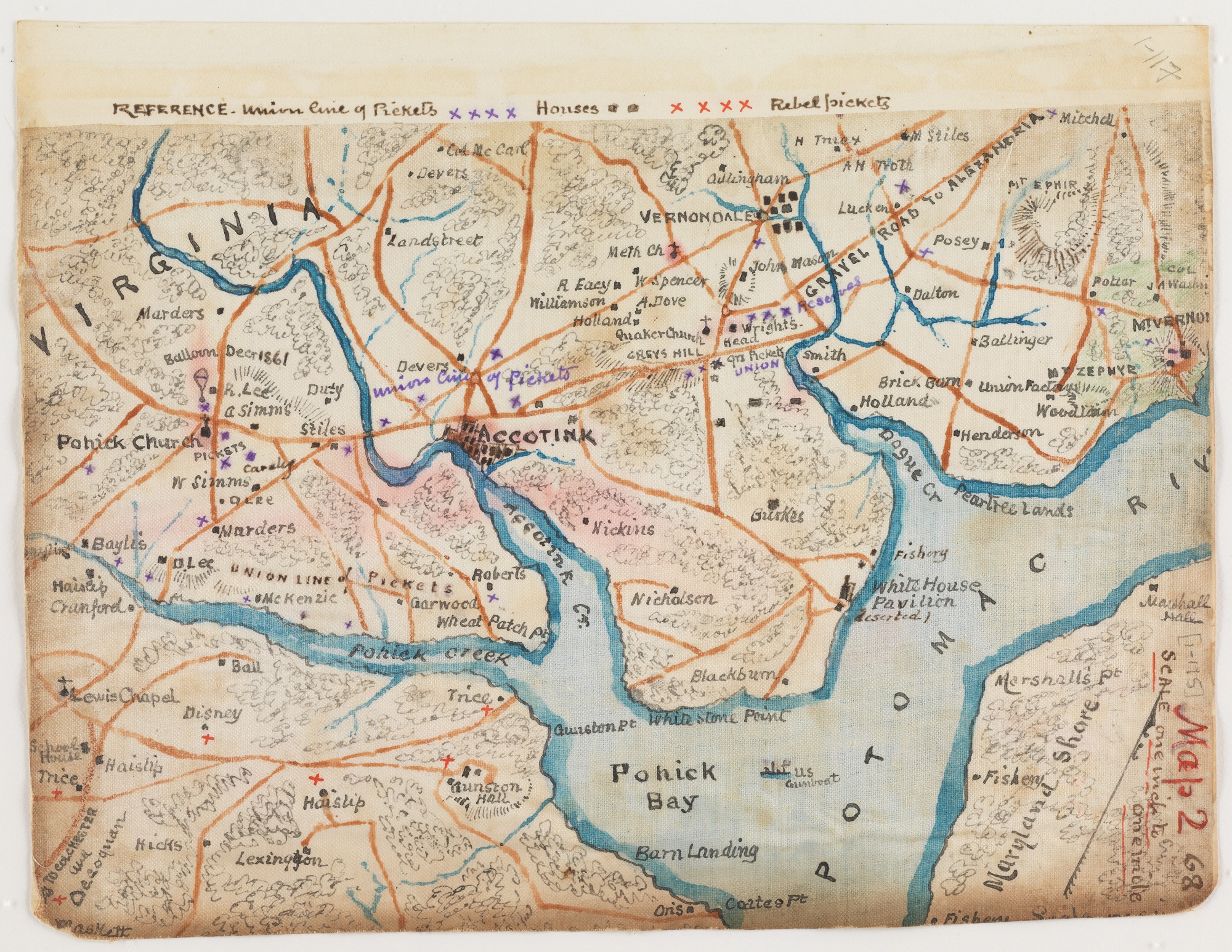 Use controls to zoom and pan.